Degree Program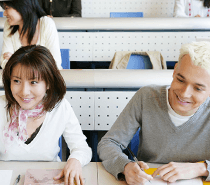 Description of the Degree Program
Overview of the Program
The establishment of VU'S Doctor of Acupuncture with a Chinese Herbal Medicine Specialization at Vitality University is aligned with the University's mission "To improve the quality of lives by educating and inspiring skilled, compassionate, and dedicated practitioners and leaders in TCM education, practice, and research."
The program of consists of 2,415 didactic clock-hours(161 semester units) of academic course work and 1090 clock-hours (36.3 semester credits) of clinical internship at the University's Intern Clinic totaling 3,505 clock-hours (197.3 semester credits).
One unit is earned by performing one hour of in-class work per one semester. For didactic courses: an additional two hours of out of class preparation are required for each hour of lecture/one unit of credit. For clinical courses, one unit is earned by performing three hours of clinical training per one semester.
Assessment instruments in curriculum courses may include written and/or practical quizzes, exams, midterms and/or final examinations, presentations, case studies, and/or written research papers. Students must receive a passing score on each phase of clinical comprehensive examination in order to advance to the next phase in clinical internship. Graduation requirements include successful completion of the doctoral research project and doctoral dissertation.
The entire program is conducted in residence at the university's instructional facility and Intern Clinic.
Length of the Program
The program takes a minimum of 4academic years to complete, may be completed in a maximum of 8 calendar years. There are 40 instructional weeks per calendar year, which is divided into 2semesters or 160 instructional weeks in total.
Admission Requirements
Prospective students must meet the programmatic admissions requirements in effect at the time of their official matriculation.
1. Satisfactory completion of at least three (3) years of undergraduate-level education (defined as 90 semester credits or 135 quarter credits) from an institution accredited or pre-accredited by an agency recognized by the U.S. Secretary of Education. In considering the acceptance of education and training obtained in foreign countries, credits earned at a foreign educational institution must be validated by a recognized educational credentials evaluation service.
2. English language competency is required of all students seeking admission to the doctoral program. This must be demonstrated by one of the following means:
a) The student must have completed a two-year (60 semester credits or 90 quarter credits) undergraduate- or graduate-level, English-based education in an institution:
(i) accredited by an agency recognized by the U.S. Secretary of Education, or
(ii) in the United Kingdom, Australia, Canada (except Quebec), New Zealand, or Ireland.
In all cases, English must have been both the language of instruction and the language of the
curriculum used;
b) Test of English as a Foreign Language Internet-Based Test (TOEFL® iBT). Acceptable score: TOEFL iBT total score 80; or
c) International English Language Testing System (IELTS) Academic Format - Acceptable score: IELTS overall band score 6.5.
Vitality University does not provide English language services such as instruction of ESL currently.
Courses Offered or Areas of Focus
Course work of VU's program includes studies in Oriental medicine theory, acupuncture, herbology & herbal formulas, Western medicine & science, TuiNa, and practice management & ethical practices, clinical internship, and research project. More specifically, VU's academic program consists of the following:
1. be at least four (4) academic years in length
2. be a minimum of 197.3 semester credits of instruction, including at least:
1065 clock hours of instruction in Oriental medical theory, diagnosis and treatment techniques in acupuncture, and related studies.

510 clock hours of instruction in didactic AOM-related herbal studies.

1,060 clock hours of instruction in integrated acupuncture and herbal clinical training, comprised of at least 150 hours in clinical observation and 940 clock hours of instruction in clinical internship.

615 clock hours of instruction in biomedical clinical sciences.

180 clock hours of instruction in counseling, communication, ethics, and practice management.

45 clock hours of instruction in research methodology and research project.